Holiday cheques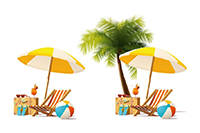 Under certain conditions, the C.C.C.S.S. provides its insureds with holiday cheques.
This benefit aims to help claimants who can prove that their income is below a certain limit, to pay for family holidays (in a gîte, camp site, holiday village, etc.) or childcare in group facilities (summer camp, leisure centre, discovery class, etc.), excluding travel costs.

An application form is sent to all relevant households during the 4th quarter.
Attribution
Under what conditions can you benefit from it?

Families must satisfy the conditions below:

Parent(s):
having received CCSS family benefits in July

2023

for at least one child satisfying age conditions
domiciled in Monaco or in France
Child(ren) under age 21
Benefiting from resources under a certain ceiling

Is there a ceiling for resources?

Yes, the family quotient ceiling for allocating this service is set at this service is set at

€ 1,189.00

How many CAVs (holiday cheques) can I claim?

A variable number of 2 to 6 holiday cheques for the amount of

€ 70.00

is attributed to each family member, depending on the family quotient (QF).

When will I receive the CAV application form?

If you qualify for holiday cheques, the application form will be sent to you in the 4th quarter of the fiscal year.

How much time before I need to return the form?

The deadline for returning it is 31 July 2024, as attested by the postmark date.

What if I am late?

After 31 July 2024, no applications for holiday cheques will be registered; incomplete applications will no longer be processed after that date.

What about cheques for Wednesday activities?

Cheques for Wednesday activities will no longer be issued.
Holiday cheques may now be used, however, to pay for:

Recreational centres for Wednesday activities during the school year ;
Annual licences for sports clubs and annual fees for cultural activities.
How to use CAV?
Cheques can be used in Continental France or Corsica
Is certification necessary for specialised facilities?

Yes, specialised facilities must be certified administrative bodies (Monegasque or French) or managed by a public or territorial collectivity.

Family accommodation must be approved by: Gîtes de France, Clévacances, Vacaf or the Tourist Office of the town where they are located.
Campsites must be registered at the Tourist Office or on the official guide for campsites and caravan parks.
Childcare facilities must be registered with their municipalities and registered for Jeunesse et Sport (Youth and Sports) or as registered associations under 1901 law.
Private rentals are not valid, nor children's activities provided by private teachers.

For linguistic stays abroad (children over age 12): UNOSEL certification required.

How can I use CAVs and where can I stay?

​​

​
What expenses are rejected?

​

​​
​
Payment of CAVs
Holiday cheques, each worth € 70.00, can be used and are payable from 1 October to 30 September of the following year, all at once or in several instalments, without limitation thereof.
Minimum invoice: € 70.00
No change may be returned
What may receive CAVs?

The CAVs are paid to:

Families having made a down-payment for their living expenses, by bank transfer to the beneficiary's account
Or to the organiser of the stay (please attach bank details and approval)

What proof is necessary to obtain payment of CAVs?

After the stay, please send the Social Service:

Holiday cheques of the participant(s);
The original invoice paid (no copies accepted);
Proof of the stay,

filled in by the residential organisation, with the date of the end of the stay

, specifying the surnames and given names of all persons present during the stay (including non-beneficiaries of the cheques).
NB: no refund for stays that have not taken place.NB: no refund for stays that have not taken place.

How is CCSS participation calculated?

The total amount of the invoice is divided by the number of paying participants, including all non-beneficiaries of holiday cheques.
The individual sum invoiced is multiplied by the number of beneficiaries to obtain the total amount subject to CCSS participation.
This sum must be equal to or higher than the amount of the cheque(s) submitted for payment.

Can I use CAVs to pay host organisations?

Yes, some residential organisations accept our CAVs as payment.
Please note that there is no refund for stays that have not taken place.
NB: A list of holiday organisations can be obtained from the Social Service on request.

What is the deadline for payment of CAVs?

The application deadline is 30 September every year, with a tolerance of 7 days, as attested by the postmark date.

What happens if I am late?