Home › Employee › COVID-19 HEALTH MEASURES Insured persons who have to keep their child at home because of school or nursery closures, out of school holidays
COVID-19 HEALTH MEASURES Insured persons who have to keep their child at home because of school or nursery closures, out of school holidays
Thursday, 15 April 2021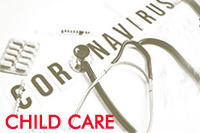 This new arrangement was implemented by the Monegasque Authorities on 2 April 2021.

It is intended to cover situations where the school or nursery attended by your child has been closed as part of the measures in place to combat the spread of the Covid 19 virus, out of school holidays.
For situations of exclusion or class closures when the facility remains open, click here
General Principles in the Event of Closure of the School or Reception Establishment
To receive compensation for child care, the parent concerned must not be able to take paid leave, nor continue working from home.
Similarly, their spouse (or the other parent, depending on circumstances) must be in actual employment, without the possibility of working from home and must not be able to take paid leave, nor temporary partial or total furlough.
The parent concerned must therefore carry out the following procedures:
They must contact their employer and consider with them the possibilities of working from home which could be put in place and/or the possibility of taking paid leave;
If no arrangement of working conditions can enable them to work from home while caring for the child, the insured person and the employer must jointly fill in the specific form which can be downloaded below to declare this absence from work.
The form must be filled in and sent when work is resumed, preferably via the employer's online documentation space.
Additional Conditions
To receive payment, the following conditions must also be met:
Age Condition: the child must be under 16 years of age on the day the absence begins (18 years in the case of disability);
Non-Cumulative Condition: A single parent (or guardian) may be granted an absence from work.
Amount and Payment of Compensation
Compensation is paid from the date of the declared absence.
It will apply from the date of resumption of work or within twenty days at the earliest after the start of the absence from work.
It is calculated on the basis of:
50% of the basic salary when the employer is paying the rest of the salary
80% of the basic salary when the employer does pay the rest of the salary.