Home › Employer › COVID 19 - Reinforced total temporary unemployment for private sector employees
COVID 19 - Reinforced total temporary unemployment for private sector employees
Monday, 23 March 2020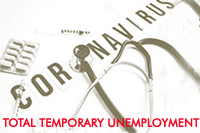 Reinforced total temporary unemployment for private sector employees
For further information on the steps to be accomplished from the Labour Department (Direction du Travail) to place an employee in a situation of reinforced temporary total unemployment: www.covid19.mc.
Periods of temporary total unemployment must be reported with a 'congés sans solde' event.
The compensation paid is not subject to contributions and should not be included in gross salary.
For further information, please send your questions directly to: recouvrement@caisses-sociales.mc.