COVID 19 - Scheme for assistance to businesses and self-employed persons located in Monaco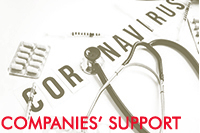 Scheme for assistance to businesses and self-employed persons impacted by the sanitary crisis
Scheme for assistance to businesses and self-employed persons impacted by the sanitary crisis
In the context of the sanitary crisis, the Caisses Sociales de Monaco have, since March 2020, set up measures to support economic actors in the form of postponement and rescheduling of the payment of social contributions in favour of employers and self-employed persons, on simple request. This concerns contributions for both C.A.M.T.I./C.A.R.T.I. and C.C.S.S./C.A.R./Unemployment Insurance).
With the gradual resumption of activity from 1 July 2020, only the following requests will be taken into consideration:
those concerning changes in the conditions of current payment agreements;
those concerning a total incapacity to respect the next dates of payment.
Please send us an e-mail at the address recouvrement@caisses-sociales.mc
with complete details on the business and/or the self-employed person, including the registration number (matricule) delivered by the Caisses Sociales;
clearly describing the purpose of the request and the nature of the problems.
Your e-mail message must be accompanied by all documents enabling us to assess the shortage of funds for meeting your social obligations.
After analysis, we will answer you by e-mail as soon as possible.
For further information on the economic measures in favour of businesses located in Monaco, please consult the 'Covid 19' site: clic here
Obligations in terms of reporting salaries:
In all cases, reporting of salaries must be sent to the CCSS of Monaco on the usual dates to guarantee employees' social rights.
The information below specifies reporting conditions, depending on the different situations:
For teleworking situations set up in the context of the health crisis, the hours worked must be reported as if they had been worked on the company's premises.
Periods of temporary total unemployment must be reported as a situation of 'congés sans sode', including when it concerns the entire month under consideration.
Compensation for partial activity is not subject to contributions and should not be included in gross salary.
Similarly, salaries maintained in whole or in part by the employer are not subject to contributions.