COVID-19 HEALTH MEASURES Self-employed workers who have to keep their child at home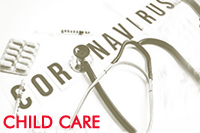 This new arrangement was implemented by the Monegasque Authorities on 22 September 2020.

It is intended to cover situations in which a child will be subject to a temporary school closure exclusion in accordance with the current health protocols.
To receive compensation for child care, self-employed workers must meet the following conditions:
Work must be completely suspended, which excludes even partial continuation by an employee, friend or family member;
The child must be under 16 years old on the day the absence from work commences (18 years in the event of disability);
The child must be educated in Monaco or, if he/she is educated in France, must be registered as eligible with C.A.M.T.I.
Only one parent (or guardian) can be granted an absence from work. Self-employed workers must certify that they are the only person to request it, on a form which can be downloaded below, to be sent to our service.
The other parent must also be in active employment and must not be in receipt of partial or total temporary unemployment payment.
If so, they must also return the following form to C.A.M.T.I, preferably via the online document space.
Amount and payment of compensation
Compensation is paid from the date of the declared absence. However, a waiting period of three days will be applied .
It will apply from the date of resumption of work or within twenty days at the earliest after the start of the absence from work .
Self-employed workers will receive payments in the amount of €61.50 per day of absence.