Home › Employer › The unemployment insurance contribution rate remains unchanged at 1st January 2018
The unemployment insurance contribution rate remains unchanged at 1st January 2018
Sunday, 21 January 2018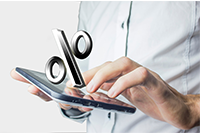 In France, as of 1st January 2018, the employee share of unemployment insurance contributions was reduced. Furthermore, it will be removed completely from 1st October 2018.
This exemption will be offset by direct payment by the Agence Centrale des Organismes de Sécurité Sociale (ACOSS).
This scheme was introduced by the French Social Security Financing Act of 2018. By definition, the scope of application of this act is limited to France.
There is therefore no impact on the rules applied to employees and employers in the Principality of Monaco.
They remain subject to an overall unemployment insurance contribution rate of 6.45 % in accordance with the extension amendment that refers to the provisions of the Agreement on Unemployment Insurance on this point and which sets this rate.