2023/2024 winter seasonal flu shot campaign
Thursday, 19 October 2023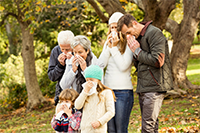 In the context of COVID-19, the Monegasque Authorities recommend that the population have a flu vaccination to better protect everyone's health.
Who can give flu vaccinations?
Doctors, nurses, midwives, pharmacists from the Principality of Monaco can vaccinate against flu.
Arrangements for health insurance cover
All those insured by CCSS and CAMTI can benefit from 100% reimbursement of this vaccination, with no conditions about age* or health.
* a medical prescription is essential for children
For any further information about the vaccination, the Caisses Sociales ask you to seek your GP's advice.