Non-industrial accidents
Wednesday, 5 December 2018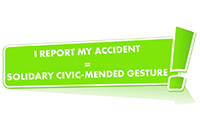 You have the obligation to report any accident to our organisation, as well as all health care given in relation to an accident having occurred outside the professional context*, for which you request reimbursement from Social Funds.
The accident you suffered may have been caused, intentionally or not, by someone else. It is then an accident caused by a third party, which may simply be a private individual, a company or an administration. Your report enables your Fund to seek redress from the person liable or their insurance company to obtain reimbursement of sums paid for medical care following your accident.
Examples of accidents caused by third parties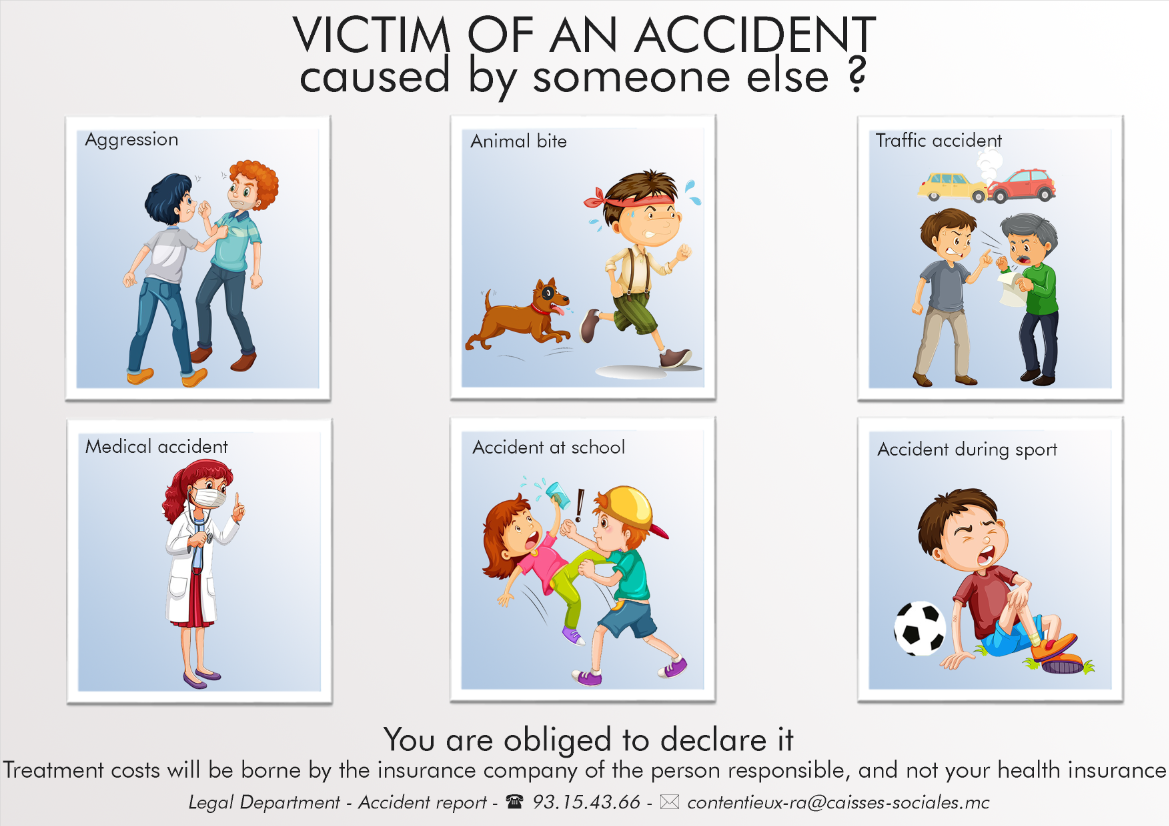 How to report an accident?
This report must be sent by post within a fortnight of the accident.
You can print the form by clicking on the link below or you can request it from any of our reception desks.
ATTENTION: this document is printed on both sides: the front must be filled in all cases, while the back must be filled in only for accidents caused by third parties.
In case it is impossible to send the form within a fortnight after the accident, this report must be sent with your first request for reimbursement of medical care. Your Fund may request additional information on the circumstances of the accident.
For this request and all others, to obtain payment of medical expenses, we urge you to:
make certain that the information your physician or any other health professionals have indicated on your care record specify the care for which reimbursement is requested relating or not to an accident caused by a third party, as well as the date,
keep photocopies of all documents justifying your health expenses (invoices, breakdown of treatment by the Fund for each payment, etc.) to enable you to claim, if need be, reimbursement of all health expenses you have paid from the third parties concerned or their insurance company.
You must take action
Your accident report will trigger implementation of the 'claim against third parties' procedure. You must provide complete information and supporting documents concerning this type of situation. The Fund will then contact the third party responsible or their insurance company for reimbursement of all health expenses further to your accident.
This enables you to avoid undue payments for your health insurance, and hence by the community.
For further information, place contact the Legal Department - Accident report
* IMPORTANT – Accidents at Work
In the Principality of Monaco, accidents at work insurance is managed by private insurance companies with whom employers are obliged to insure themselves. This is a legal requirement.
When an accident happens at work, it is incumbent on your employer to declare an accident at work to the Direction de la Sûreté Publique (Public Safety Authority) and to inform the insurer about it. The latter will then be responsible for paying for treatment and compensation for any time off work, as a result of the accident at work. In such circumstances it will be necessary to address your potential requests for reimbursement to the insurer.