Fees applied by contracted practitioners (NGAP)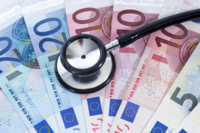 Doctors and Dentists
(1) The billing rates indicated for the visit (V) are agreed when there is a medical reason for the travel.
(2) Key letters reserved for authorised doctors, as an exception, to quote and set their fees according to the NGAP.
Midwives
NB: SFID and SFIN surcharges apply for acts coming under the exclusive competence of midwives (except SFI and CCAM). When CCAM acts are listed, the modifiers provided for in this Nomenclature apply. For nursing care provided at night or on holidays, AMIN and AMID/S surcharges listed in the table below apply.
Nurses - Physiotherapists - Speech Therapists
Orthoptists - Podiatrists