Information on Registration and FSE cards
Friday, 29 April 2022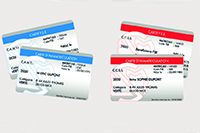 You have just received your new registration card.

Be sure you have it at all times.

You can download it on your smartphone.
Health professionals may ask to see it:
your physician or dentist: to proceed with electronic transmission of your patient treatment form
your pharmacist: for your prescriptions and pharmacy invoices
Pour en savoir plus :
on the la card colour
on electronic patient treatment forms
What is the FSE (patient treatment form) card?
The FSE card was sent to you with your personal registration card.
It is intended for your family members who benefit from your healthcare coverage: the FSE card enables them to benefit from these services.