The Caisses Sociales de Monaco on your Smartphone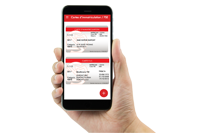 The Caisses Sociales are now on Android and Apple smartphones using an application that enables you to view your insured card. You can also load your beneficiaries' card onto their mobiles
What this application offers you
Your registration card
Direct access to the information that health professionals need to send your treatment forms to the Caisses Sociales de Monaco and benefit from faster reimbursements.
Your EFT Card on your spouse's smartphone or those of family members.
A direct link to your insured account
Monitor the payment of your benefits and access all our online services in just one click.
You can now install the application on your smartphone by clicking:


To use this service, don't wait anymore: subscribe!