Home › Unemployed › New, more user-friendly online services compatible with smartphones and tablets
New, more user-friendly online services compatible with smartphones and tablets
Monday, 2 March 2015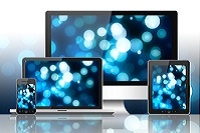 Our online services for our insured are being modernised and upgraded
Now compatible with Android and iOS smart phones and tablets, our new user-friendly online services offer easy and clear navigation.
Subscribe now, if you haven't already, and connect to your Personal account to make the most of these services.
ENJOY YOUR VISIT!
However:
if your smartphone is very "old", there may be some delays in displaying certain applications. This is not due to a malfunction on our website but is due to the JavaScript engine embedded in older browsers or a processor that struggles to display complex, "responsive design" pages.>> The latest smartphones are not affected by this problem.
With Jelly Bean Android (versions 4.1, 4.2 and 4.3) and the default browser, some bugs have been reported that may make the use of the corporate website impossible. This browser by default on these versions of Android, is not supported with our corporate website. >> The alternative is to use Firefox or Chrome, available on Google Play.However, access to your personal account works fine with this browser in these versions. It is the same with all the versions of FireFox or Chrome on the Android platform.
Technical support
The Caisses Sociales de Monaco's technical support is your main point of contact if you are experiencing any problems.
By telephone: (+377) 93 15 44 44
Monday to Friday - 9:00 am to 12:00 pm and 2:00 pm to 5:30 pm
By email: 4444@caisses-sociales.mc