Pharmacy flow: making things easier for the insured
Monday, 15 February 2016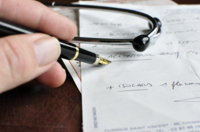 Once your pharmacy has implemented the electronic collection of patient treatment forms, prescriptions will be transmitted directly to the Caisse Sociale de Monaco
The implementation of the pharmacy form collection system makes things easier for insureds as they no longer need to send these documents to the fund with the prescription.
Indeed, the invoice corresponding to the dispensing of your medications will be sent electronically, directly to the fund.
The pharmacist will then take care of sending prescriptions to the Caisses Sociales. This is why the pharmacist will retain the original prescription (or a copy if they are dispensing multiple items) when dispensing your medication.
Your privacy is protected: the electronic data flow is not sent in plain text over the internet, but is encrypted using the same algorithms as those used by banking organisations for financial transactions.
This service has been available in the Principality's pharmacies. The system will gradually be extended.
To make full use of this service, keep your insurance card with you so that your pharmacist can record the information needed for this electronic data transfer.